TVEC Chartiable Foundation Grant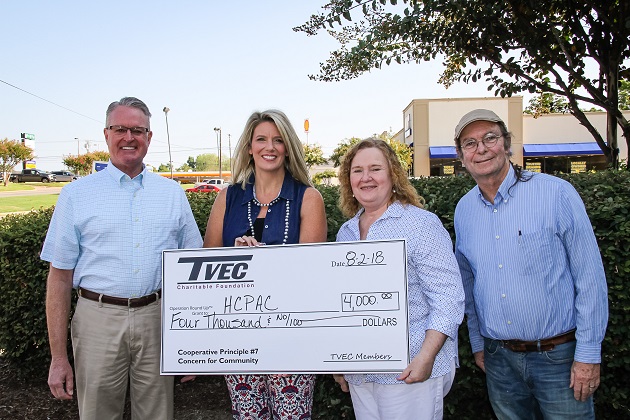 The TVEC Charitable Foundation has awarded a grant in the amount of $4000.00 to the Henderson County Performing Arts Center. The grant was awarded on August 2, 2018.
The TVEC Charitable Foundation is funded by donations from Operation Round Up. Operation Round Up is a voluntary program that allows TVEC members to round up their monthly electric bills to the next whole dollar amount. The portion that is rounded up goes to the TVEC Charitable Foundation and may be used to award grant requests to local charitable organizations.
"With this grant, we will continue to provide educational programs and performances for area youth interested in the performing arts. We are grateful to TVEC Charitable Foundation and TVEC members for this grant", said Dr. Mark Roberts, HCPAC Board President.
Pictured are (l to r): Dr. Mark Roberts, HCPAC Board President, Kari Wilmeth, TVEC Public Relations, Jo Ann Johnson and Will Pruitt.
Support Your Local Theater
Our theater is made possible through the generous donations by members of the the community just like you.