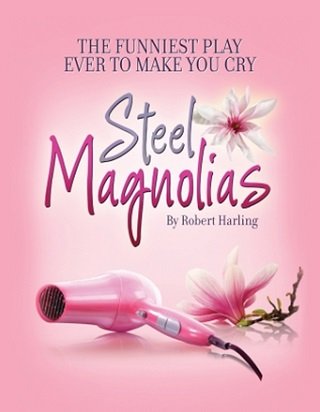 February 20, 21, 22, 27, 28 & 29 at 7:30 pm

Matinee February 23 @ 2:00 pm

Set in a small town in Louisiana, in the time of really big hair, six women gather in Truvy's beauty shop for gossip, friendship, and support. These women are true steel magnolias: southern belles who are flowery on the outside, but tough as steel inside. The play is alternately hilarious and touching as it moves from the excitement of Shelby's wedding to sadness as friends mourn her loss.
Directed by Joclyn Ewers.
Auditions - December 9 and 10 from 6:30 to 8:00 pm. Cast for 6 females ages 20 to 70ish. Location - 400 Gibson Road, Athens, TX. Please email us at info@hcpac.org for more information. No advance preparation is necessary.
HCPAC CASTING POLICY
"HCPAC is an inclusive and equal opportunity organization. Determined by the quality of auditions, the director will cast the best choice for each role after everyone has had an opportunity to audition. Being invited to auditions by a director does not guarantee that a person will be cast. HCPAC does not pre-cast unless announced on the audition notice. In addition, on occasion, a cast might be expanded to accommodate a large turnout of actors."
Support Your Local Theater
Our theater is made possible through the generous donations by members of the the community just like you.
Latest Articles

Did you miss the first HCPAC Radio Hour on July ...